Ceramic tile vs Porcelain tile
Ceramic tile is a mixture of clays and other natural materials. The special clays are mined from the earth, shaped, colored and than fired in kilns. Traditional ceramic tile can be naturally colored and left unglazed like terra cotta, or they can feature colored or highly designed surfaces which can be glazed (finished with a glass surface) either in a high gloss or matte finish. Most ceramic tile has either a white or red body coloration underneath the glazed, colored top layer.

Porcelain tile is a newer form of ceramic tile and extremely popular among homeowners. Porcelain tiles are composed of fine porcelain clays and fired at much higher temperatures than ceramic tiles. This process makes porcelain tile more dense, less porous, much harder and less prone to moisture and stain absorption than ceramic tiles. For these reasons, most porcelain tiles are suitable for both indoor and outdoor installations. Porcelain tiles are also harder to cut due to their density and hardness.

What types of tiles are there ?

Porcelain tiles = Fully Vitrified Tiles
Porcelain tiles are growing in popularity with homeowners and interior designers. They are more dense and less porous than glazed ceramic tile. Plus, porcelain tiles are highly resistant to moisture, stains, bacteria, odors and even harsh cleaners. For homeowners, porcelain tile is especially resistant to staining, scratches, fading and is available in both polished and matte finishes. They are available in a variety of sizes, colors and textures.

True porcelain tiles have a 0.5% or less water absorption rate, making these tiles freeze-thaw stable. This is why porcelain tiles can be used outdoors in exterior settings, as well as indoors. Porcelain tiles are formed under extremely high pressure and fired at very high temperatures. This make these tiles much denser and stronger than the common glazed ceramic tiles so they are ideal for enter ways, corridors and other high traffic areas. Porcelain tiles do require specialty setting materials for bonding to the sub-floor.

Full body porcelain tiles = Through-body Fully Vitrified Tiles
Through-body porcelain tiles have the same colors all the way through from front to the back of the tile. If they are chipped or scratched the color will not change. These tiles can be polished, unpolished or rustic surface.
Because porcelain can be made to resemble stone, it is sometimes a better choice than Mother Nature's natural products simply because it's less porous and less prone to cracking.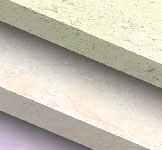 Full body porcelain tile section
Semi-Vitrified Tiles
Tiles, which can either be unglazed or glazed. Tiles in this category can be either dry pressed or extruded and have water absorption of between 0.5 to 3% (vitrified) Class BIb – dry pressed, and 3% to 6% (semi-vitrified), Class BIIa – dry pressed.
Mosaics
These tiles are very small tiles, usually less than 100 cm2. Mosaics can be glazed or unglazed and made from porcelain, ceramic, glass or natural stone.
Quarry tiles *
These tiles are made from natural clay, squeezed through an extruding machine, and then fired. They are mostly available in terracotta, black and white colors.
Terracotta tiles *
These tiles are also made from local clays. Terracotta means "cooked earth" and these products tend to be very absorbent, so need sealing when used on the floor.
Natural stone products *;
limestone, marble, granite and slate are quarried from the earth. Some are extremely hard, and some quite soft. Some may need sealing
* not exported by Geoffering Ltd
Nota: rectified is simply tile that has been grinded or sawed after firing to get a more exact tile size. Many tiles will vary slightly in size after being fired (both porcelain and ceramic tiles it is up to 1.5% variation) . By sawing or grinding the tiles after firing the manufacturer hopes to minimize the size variations from tile to tile. Although, at this time there are no set standards set for what the minimum variations are allowed for rectified tiles, it is strictly up to the tile manufacturer.
Some tile terms
Glazed tile
The most common style today in floor and wall tiles, as well as for residential and commercial applications. A liquid glass is applied to the body of the tile and fired at high temperatures. The glazing becomes hard and non-porous resulting in a flooring that is stain resistant, scratch resistant, fire resistant, doesn't fade from sun light, slip resistant and easy to clean
Shiny glazes are softer, can be scratched easier, and can be slippery than the satin or rustic finishes.
Unglazed tile
There is no glazing or any other coating applied to the tile. Their color is the same on the face of the tile as it is on the back resulting in very durable tiles that do not show the effects of heavy traffic. The most common unglazed tiles are the red quarry tiles or the granite looking porcelain ceramic tiles used in heavy commercial areas.
White body tile versus red body tile
The color of the body is determined by the color of the clay used by the manufacturer that is available in their geographic region. Look at the body of the tile to see if the color is red or white. The quality of the tile is related to the quality of our manufacturers not the color of the body.
"Polish" is normally used in talking about porcelain tile and "Shiny / Glazed" is used in ceramic tile. Polished means a production procedure but "shiny / glazed" is only a word to say the appearance of ceramic tile surface.
For the look ceramic tile can be glazed- = shiny or unglazed = mat-glazed = mat, but nothing concerns about polish
Floor tile classification / P.E.I Wear Ratings
To help you choose a tile to suit your needs
| | |
| --- | --- |
| | Group 1. Soft soled footwear or bare feet areas, bathrooms and bedrooms without direct access from the outside. Generally wall tile products fall into this group. Some wall tiles can be used on the floor. |
| | Group 2. Living areas of homes but with the exception of kitchens, entrances and other rooms which may have a high foot traffic. |
| | Group 3. All residential uses including kitchens, halls, corridors, balconies and terraces. These tiles that are recommended for all residential installations with normal foot traffic. |
| | Group 4. Tiles that are suited for light to medium commercial applications, such as offices and sales rooms. |
| | Group 5. Tiles used in heavy commercial traffic areas such as exterior areas, shopping centers, airports, hotel lobbies, public walkways. |
| | This symbol indicates that a tile is frost resistant |
Source: tiles.org.uk